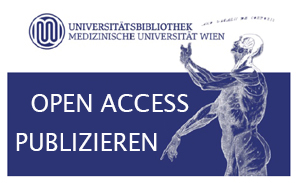 Open Access Publikationen von Angehörigen der MedUni Wien: Verlag Wiley

Für Wissenschaftler*innen der MedUni Wien besteht die Möglichkeit, als Corresponding Author in ca. 1.300 Zeitschriften des Verlages Wiley ohne zusätzliche Bezahlung von Article Processing Charges (APCs) Open Access zu publizieren. Mehr Infos–>
Im Van Swieten Blog können Sie kontinuierlich die Open Access Publikationen von Angehörigen der MedUni Wien nachlesen:
Hepatitis D virus (HDV) prevalence in Austria is low but causes considerable morbidity due to fast progression to cirrhosis
Mathias Jachs, Teresa Binter, Caroline Schmidbauer, Lukas Hartl, Michael Strasser, Hermann Laferl, Stephanie Hametner‐Schreil, Alexander Lindorfer, Kristina Dax, Rudolf E. Stauber, Harald H. Kessler, Sebastian Bernhofer, Andreas Maieron, Lorin Loacker, Simona Bota, Isabel Santonja, Petra Munda, Mattias Mandorfer, Markus Peck‐Radosavljevic, Heidemarie Holzmann, Michael Gschwantler, Heinz Zoller, Peter Ferenci, Thomas Reiberger
United European Gastroenterol J. 2021 Dec; 9(10): 1119–1127. Published online 2021 Dec 7. doi: 10.1002/ueg2.12163
PMCID:
PMC8672089
**********************************
Optical coherence tomography in multiple sclerosis: A 3‐year prospective multicenter study
Friedemann Paul, Peter A. Calabresi, Frederik Barkhof, Ari J. Green, Randy Kardon, Jaume Sastre‐Garriga, Sven Schippling, Patrick Vermersch, Shiv Saidha, Bianca S. Gerendas, Ursula Schmidt‐Erfurth, Catherine Agoropoulou, Ying Zhang, Gustavo Seifer, Axel Petzold
Ann Clin Transl Neurol. 2021 Dec; 8(12): 2235–2251. Published online 2021 Nov 18. doi: 10.1002/acn3.51473
PMCID:
PMC8670323
**********************************
Prevalence of iron deficiency in pregnant women: A prospective cross‐sectional Austrian study
Harald Zeisler, Wolf Dietrich, Florian Heinzl, Philipp Klaritsch, Victoria Humpel, Manfred Moertl, Christian Obruca, Friedrich Wimazal, Angela Ramoni, Johanna Tiechl, Elisabeth Wentzel‐Schwarz
Food Sci Nutr. 2021 Dec; 9(12): 6559–6565. Published online 2021 Oct 16. doi: 10.1002/fsn3.2588
PMCID:
PMC8645778
**********************************
Mobility as a driver of severe acute respiratory syndrome coronavirus 2 in cancer patients during the second coronavirus disease 2019 pandemic wave
Dominic Fong, Maximilian J. Mair, Florian Lanthaler, Monika Alber, Manfred Mitterer
Int J Cancer. 2021 Oct 15 : 10.1002/ijc.33838. doi: 10.1002/ijc.33838 [Epub ahead of print]
PMCID:
PMC8653070
**********************************
Perinatal and postpartum care during the COVID‐19 pandemic: A nationwide cohort study
Michael Wagner, Veronica Falcone, Sabrina B. Neururer, Hermann Leitner, Irmgard Delmarko, Herbert Kiss, Angelika Berger, Alex Farr
Birth. 2021 Oct 7 : 10.1111/birt.12594. doi: 10.1111/birt.12594 [Epub ahead of print]
PMCID:
PMC8653168
**********************************
A case of COVID‐19 vaccination‐associated forme fruste purpura fulminans
Griss, S. Eichinger, S. Winkler, W. Weninger, P. Petzelbauer
Br J Dermatol. 2021 Sep 28 : 10.1111/bjd.20744. doi: 10.1111/bjd.20744 [Epub ahead of print]
PMCID:
PMC8652590
**********************************
Neutralization of SARS‐CoV‐2 requires antibodies against conformational receptor‐binding domain epitopes
Pia Gattinger, Katarzyna Niespodziana, Karin Stiasny, Sabina Sahanic, Inna Tulaeva, Kristina Borochova, Yulia Dorofeeva, Thomas Schlederer, Thomas Sonnweber, Gerhard Hofer, Renata Kiss, Bernhard Kratzer, Doris Trapin, Peter A. Tauber, Arno Rottal, Ulrike Körmöczi, Melanie Feichter, Milena Weber, Margarete Focke‐Tejkl, Judith Löffler‐Ragg, Bernhard Mühl, Anna Kropfmüller, Walter Keller, Frank Stolz, Rainer Henning, Ivan Tancevski, Elisabeth Puchhammer‐Stöckl, Winfried F. Pickl, Rudolf Valenta
Allergy. 2021 Sep 22 : 10.1111/all.15066. doi: 10.1111/all.15066 [Epub ahead of print]
PMCID:
PMC8653362
**********************************
The report from ASFA COVID‐19 taskforce: Considerations and prioritization on apheresis procedures during the SARS‐CoV‐2 coronavirus disease (COVID‐19) pandemic
Chisa Yamada, Jan C. Hofmann, Volker Witt, Gaurav K. Gupta, Jeffrey L. Winters, The ASFA COVID‐19 Taskforce
J Clin Apher. 2021 Dec; 36(6): 878–881. Published online 2021 Sep 12. doi: 10.1002/jca.21939
PMCID:
PMC8646674
**********************************
The venous system of E14.5 mouse embryos—reference data and examples for diagnosing malformations in embryos with gene deletions
Stefan H. Geyer, Barbara Maurer‐Gesek, Lukas F. Reissig, Julia Rose, Fabrice Prin, Robert Wilson, Antonella Galli, Catherine Tudor, Jacqueline K. White, Timothy J. Mohun, Wolfgang J. Weninger
J Anat. 2022 Jan; 240(1): 11–22. Published online 2021 Aug 25. doi: 10.1111/joa.13536
PMCID:
PMC8655187
**********************************
Case report of a clinically indolent but morphologically high‐grade cutaneous mast cell tumor in an adult: Atypical cutaneous mastocytoma or mast cell sarcoma?
Claire L. W. Wardle, J. Marja Oldhoff, Arjan Diepstra, Peter Valent, Hans‐Peter Horny, Hanneke N. G. Oude Elberink, Philip M. Kluin, Gilles F. H. Diercks
J Cutan Pathol. 2021 Nov; 48(11): 1404–1409. Published online 2021 Jul 2. doi: 10.1111/cup.14088
PMCID:
PMC8638666
**********************************
Patients' opinion on the use of 2 generations of power‐driven water flossers and their impact on gingival inflammation
Kristina Bertl, Pia Edlund Johansson, Andreas Stavropoulos
Clin Exp Dent Res. 2021 Dec; 7(6): 1089–1095. Published online 2021 May 31. doi: 10.1002/cre2.456
PMCID:
PMC8638279
**********************************
Minimum Reporting Standards for in vivo Magnetic Resonance Spectroscopy (MRSinMRS): Experts' consensus recommendations
Alexander Lin, Ovidiu Andronesi, Wolfgang Bogner, In‐Young Choi, Eduardo Coello, Cristina Cudalbu, Christoph Juchem, Graham J. Kemp, Roland Kreis, Martin Krššák, Phil Lee, Andrew A. Maudsley, Martin Meyerspeer, Vladamir Mlynarik, Jamie Near, Gülin Öz, Aimie L. Peek, Nicolaas A. Puts, Eva‐Maria Ratai, Ivan Tkáč, Paul G. Mullins, Experts' Working Group on Reporting Standards for MR Spectroscopy
NMR Biomed. 2021 May; 34(5): e4484. Published online 2021 Feb 9. doi: 10.1002/nbm.4484
PMCID:
PMC8647919
**********************************
A critical review of graphics for subgroup analyses in clinical trials
Nicolás M. Ballarini, Yi‐Da Chiu, Franz König, Martin Posch, Thomas Jaki
Pharm Stat. 2020 Sep-Oct; 19(5): 541–560. Published online 2020 Mar 25. doi: 10.1002/pst.2012
PMCID:
PMC8647927