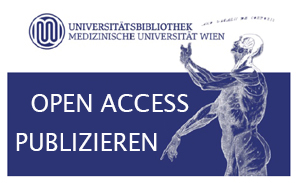 Open Access Publikationen von Angehörigen der MedUni Wien: Verlag Wiley

Für Wissenschaftler*innen der MedUni Wien besteht die Möglichkeit, als Corresponding Author in ca. 1.300 Zeitschriften des Verlages Wiley ohne zusätzliche Bezahlung von Article Processing Charges (APCs) Open Access zu publizieren. Mehr Infos–>
Im Van Swieten Blog können Sie kontinuierlich die Open Access Publikationen von Angehörigen der MedUni Wien nachlesen:
The Role of Metabolic Lipases in the Pathogenesis and Management of Liver Disease
Matteo Tardelli, Francesca Virginia Bruschi, Michael Trauner
Hepatology. 2020 Sep; 72(3): 1117–1126. Published online 2020 Sep 28. doi: 10.1002/hep.31250
PMCID:
PMC7590081
ArticlePubReaderPDF–437KCitation
***************************************
Multiple sclerosis and COVID‐19: how many are at risk?
Gabriel Bsteh, Christina Bitschnau, Harald Hegen, Michael Auer, Franziska Di Pauli, Paulus Rommer, Florian Deisenhammer, Thomas Berger
Eur J Neurol. 2020 Sep 25 : 10.1111/ene.14555. doi: 10.1111/ene.14555 [Epub ahead of print]
PMCID:
PMC7537184
***************************************
Risk of venous thromboembolism in patients with COVID‐19: A systematic review and meta‐analysis
Stephan Nopp, Florian Moik, Bernd Jilma, Ingrid Pabinger, Cihan Ay
Res Pract Thromb Haemost. 2020 Oct; 4(7): 1178–1191. Published online 2020 Oct 13. doi: 10.1002/rth2.12439
PMCID:
PMC7537137
ArticlePubReaderPDF–957KCitation
***************************************
Development and characterization of specific anti‐Usutu virus chicken‐derived single chain variable fragment antibodies
Amelie Karin Josephine Schoenenwald, Chin Piaw Gwee, Karin Stiasny, Marcela Hermann, Subhash G. Vasudevan, Tim Skern
Protein Sci. 2020 Nov; 29(11): 2175–2188. Published online 2020 Sep 4. doi: 10.1002/pro.3937
PMCID:
PMC7586906
ArticlePubReaderPDF–2.3MCitation
***************************************
Alum triggers infiltration of human neutrophils ex vivo and causes lysosomal destabilization and mitochondrial membrane potential‐dependent NET‐formation
Manuel Reithofer, Jasmine Karacs, Johanna Strobl, Claudia Kitzmüller, Dominika Polak, Katharina Seif, Meder Kamalov, Christian F. W. Becker, Georg Greiner, Klaus Schmetterer, Georg Stary, Barbara Bohle, Beatrice Jahn‐Schmid
FASEB J. 2020 Oct; 34(10): 14024–14041. Published online 2020 Aug 29. doi: 10.1096/fj.202001413R
PMCID:
PMC7589265
ArticlePubReaderPDF–1.8MCitation
***************************************
State‐of‐the‐art consensus on non‐transvenous implantable cardioverter‐defibrillator therapy
Christoph Schukro, David Santer, Günther Prenner, Markus Stühlinger, Martin Martinek, Alexander Teubl, Deddo Moertl, Stefan Schwarz, Michael Nürnberg, Lukas Fiedler, Robert Hatala, Cesar Khazen
Clin Cardiol. 2020 Oct; 43(10): 1084–1092. Published online 2020 Aug 14. doi: 10.1002/clc.23432
PMCID:
PMC7533987
ArticlePubReaderPDF–1.2MCitation
***************************************
Less ready for adulthood?—Turner syndrome has an impact on transition readiness
Caroline Culen, Marion Herle, Diana‐Alexandra Ertl, Elke Fröhlich‐Reiterer, Peter Blümel, Gudrun Wagner, Gabriele Häusler
Clin Endocrinol (Oxf) 2020 Oct; 93(4): 449–455. Published online 2020 Aug 14. doi: 10.1111/cen.14293
PMCID:
PMC7540424
ArticlePubReaderPDF–285KCitation
***************************************
An advanced prediction model for postoperative complications and early implant failure
Balazs Feher, Stefan Lettner, Georg Heinze, Florian Karg, Christian Ulm, Reinhard Gruber, Ulrike Kuchler
Clin Oral Implants Res. 2020 Oct; 31(10): 928–935. Published online 2020 Jul 31. doi: 10.1111/clr.13636
PMCID:
PMC7589383
ArticlePubReaderPDF–749KCitation
***************************************
The response of gingiva monolayer, spheroid, and ex vivo tissue cultures to collagen membranes and bone substitute
Klara Janjić, Barbara Schädl, Oleh Andrukhov, Hermann Agis
J Tissue Eng Regen Med. 2020 Sep; 14(9): 1307–1317. Published online 2020 Jul 24. doi: 10.1002/term.3102
PMCID:
PMC7539981
ArticlePubReaderPDF–19MCitation
***************************************
Neurological symptom burden impacts survival prognosis in patients with newly diagnosed non–small cell lung cancer brain metastases
Ariane Steindl, Sarah Yadavalli, Katharina‐Anna Gruber, Maria Seiwald, Brigitte Gatterbauer, Karin Dieckmann, Josa M. Frischer, Thomas Klikovits, Sabine Zöchbauer‐Müller, Anna Grisold, Mir Ali Reza Hoda, Christine Marosi, Georg Widhalm, Matthias Preusser, Anna Sophie Berghoff
Cancer. 2020 Oct 1; 126(19): 4341–4352. Published online 2020 Jul 17. doi: 10.1002/cncr.33085
PMCID:
PMC7540353
ArticlePubReaderPDF–425KCitation
***************************************
Acute oxygenator occlusion in two cases of polycythemia vera: Bailout strategies
Philipp Kaiser, Andreas Zuckermann, Johann Horvat, Franz Lederer, Heinz Gisslinger, Franz Gremmel, Paul Simon, Dominik Wiedemann, Martin Andreas
J Card Surg. 2020 Oct; 35(10): 2835–2837. Published online 2020 Jul 15. doi: 10.1111/jocs.14876
PMCID:
PMC7586822
ArticlePubReaderPDF–2.8MCitation
***************************************
Cell‐based and antibody‐mediated immunotherapies directed against leukemic stem cells in acute myeloid leukemia: Perspectives and open issues
Peter Valent, Karin Bauer, Irina Sadovnik, Dubravka Smiljkovic, Daniel Ivanov, Harald Herrmann, Yüksel Filik, Gregor Eisenwort, Wolfgang R. Sperr, Werner Rabitsch
Stem Cells Transl Med. 2020 Nov; 9(11): 1331–1343. Published online 2020 Jul 13. doi: 10.1002/sctm.20-0147
PMCID:
PMC7581453
ArticlePubReaderPDF–647KCitation
***************************************
Outcomes of coronary artery bypass grafting in patients with human immunodeficiency virus infection
Gregor Wollner, Daniel Zimpfer, Marina Manduric, Günther Laufer, Armin Rieger, Sigrid E. Sandner
J Card Surg. 2020 Oct; 35(10): 2543–2549. Published online 2020 Jul 11. doi: 10.1111/jocs.14828
PMCID:
PMC7586791
ArticlePubReaderPDF–689KCitation
***************************************
Tenascin‐C aggravates ventricular dilatation and angiotensin‐converting enzyme activity after myocardial infarction in mice
David Santer, Felix Nagel, Inês Fonseca Gonçalves, Christoph Kaun, Johann Wojta, Miklós Fagyas, Martin Krššák, Ágnes Balogh, Zoltán Papp, Attila Tóth, Viktor Bánhegyi, Karola Trescher, Attila Kiss, Bruno K. Podesser
ESC Heart Fail. 2020 Oct; 7(5): 2113–2122. Published online 2020 Jul 8. doi: 10.1002/ehf2.12794
PMCID:
PMC7524253
ArticlePubReaderPDF–2.5MCitation
***************************************
Molecular‐level HLA mismatch is associated with rejection and worsened graft survival in heart transplant recipients – a retrospective study
Emilio Osorio‐Jaramillo, Geert W. Haasnoot, Alexandra Kaider, Anne‐Kristin Schaefer, Thomas Haberl, Johannes Goekler, Philipp Angleitner, Roxana Moayedifar, Andreas Zuckermann, Gottfried F. Fischer, Guenther Laufer, Frans H. J. Claas, Arezu Z. Aliabadi‐Zuckermann
Transpl Int. 2020 Sep; 33(9): 1078–1088. Published online 2020 Jun 23. doi: 10.1111/tri.13657
PMCID:
PMC7540475
ArticlePubReaderPDF–1.1MCitation
***************************************
Oral batyl alcohol supplementation rescues decreased cardiac conduction in ether phospholipid‐deficient mice
Hannes Todt, Fabian Dorninger, Peter J. Rothauer, Claus M. Fischer, Michael Schranz, Britta Bruegger, Christian Lüchtenborg, Janine Ebner, Karlheinz Hilber, Xaver Koenig, Fatma A. Erdem, Vaibhavkumar S. Gawali, Johannes Berger
J Inherit Metab Dis. 2020 Sep; 43(5): 1046–1055. Published online 2020 Jun 5. doi: 10.1002/jimd.12264
PMCID:
PMC7540404
ArticlePubReaderPDF–1.5MCitation
***************************************
Retinoic acid‐loading of the major birch pollen allergen Bet v 1 may improve specific allergen immunotherapy: In silico, in vitro and in vivo data in BALB/c mice
Karin Hufnagl, Sheriene Moussa Afify, Nina Braun, Stefanie Wagner, Michael Wallner, Michael Hauser, Markus Wiederstein, Gabriele Gadermaier, Sabrina Wildner, Frank A. Redegeld, Bart R. Blokhuis, Gerlinde Hofstetter, Isabella Pali‐Schöll, Franziska Roth‐Walter, Luis F. Pacios, Erika Jensen‐Jarolim
Allergy. 2020 Aug; 75(8): 2073–2077. Published online 2020 Apr 16. doi: 10.1111/all.14259
PMCID:
PMC7522679
ArticlePubReaderPDF–987KCitation
***************************************
Increased resting heart rate and prognosis in treatment‐naïve unselected cancer patients: results from a prospective observational study
Markus S. Anker, Maria K. Frey, Georg Goliasch, Philipp E. Bartko, Suriya Prausmüller, Heinz Gisslinger, Gabriela Kornek, Guido Strunk, Markus Raderer, Christoph Zielinski, Martin Hülsmann, Noemi Pavo
Eur J Heart Fail. 2020 Jul; 22(7): 1230–1238. Published online 2020 Mar 23. doi: 10.1002/ejhf.1782
PMCID:
PMC7540544
ArticlePubReaderPDF–1.4MCitation
Select item 758678419.
High Interobserver Agreement in the Subjective Classification of 5‐Aminolevulinic Acid Fluorescence Levels in Newly Diagnosed Glioblastomas
Mario Mischkulnig, Barbara Kiesel, Martin Borkovec, Lisa I. Wadiura, Dimitri Benner, Arthur Hosmann, Shawn Hervey‐Jumper, Engelbert Knosp, Karl Roessler, Mitchel S. Berger, Georg Widhalm
Lasers Surg Med. 2020 Nov; 52(9): 814–821. Published online 2020 Mar 8. doi: 10.1002/lsm.23228
PMCID:
PMC7586784
ArticlePubReaderPDF–768KCitation
Select item 754017220.
Contactless detection of periodic leg movements during sleep: A 3D video pilot study
Stefan Seidel, Heinrich Garn, Markus Gall, Bernhard Kohn, Christoph Wiesmeyr, Markus Waser, Carmina Coronel, Andrijana Stefanic, Marion Böck, Markus Wimmer, Magdalena Mandl, Birgit Högl, Gerhard Klösch
J Sleep Res. 2020 Oct; 29(5): e12986. Published online 2020 Feb 4. doi: 10.1111/jsr.12986
PMCID:
PMC7540172
ArticlePubReaderPDF–626KCitation
Select item 754027021.
Clinical outcomes after TAVR with heparin or bivalirudin as periprocedural anticoagulation in patients with and without peripheral arterial disease: Results from the BRAVO‐3 randomized trial
Robert Zilberszac, Rishi Chandiramani, Christian Hengstenberg, Samantha Sartori, Davide Cao, Jaya Chandrasekhar, Ulrich Schafer, Didier Tchetche, Roberto Violini, Raban Jeger, Eric Van Belle, Peter Boekstegers, Rainer Hambrecht, Christophe Tron, Nicolas Dumenteil, Axel Linke, Jurriën M. ten Berg, Efthymios N. Deliargyris, Prodromos Anthopoulos, Roxana Mehran, George Dangas
Catheter Cardiovasc Interv. 2020 Sep 1; 96(3): E377–E386. Published online 2019 Dec 5. doi: 10.1002/ccd.28642
PMCID:
PMC7540270
ArticlePubReaderPDF–1.0MCitation
***************************************