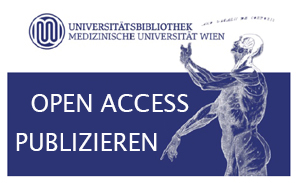 Open Access Publikationen von Angehörigen der MedUni Wien: Verlag Wiley

Für Wissenschaftler*innen der MedUni Wien besteht die Möglichkeit, als Corresponding Author in ca. 1.300 Zeitschriften des Verlages Wiley ohne zusätzliche Bezahlung von Article Processing Charges (APCs) Open Access zu publizieren. Mehr Infos–>
Im Van Swieten Blog können Sie kontinuierlich die Open Access Publikationen von Angehörigen der MedUni Wien nachlesen:
Quantitative fetal magnetic resonance imaging assessment of cystic posterior fossa malformations
O. Dovjak, M. C. Diogo, P. C. Brugger, G. M. Gruber, M. Weber, S. Glatter, R. Seidl, D. Bettelheim, D. Prayer, G. J. Kasprian
Ultrasound Obstet Gynecol. 2020 Jul; 56(1): 78–85. Published online 2020 Jul 1. doi: 10.1002/uog.21890
PMCID:
PMC7384051
ArticlePubReaderPDF–1.6MCitation
**********************
Time trends in incidence of diabetes mellitus in Austrian children and adolescents <15 years (1989‐2017)
Birgit Rami‐Merhar, Sabine E. Hofer, Elke Fröhlich‐Reiterer, Thomas Waldhoer, Maria Fritsch, for the Austrian Diabetes Incidence Study Group
Pediatr Diabetes. 2020 Aug; 21(5): 720–726. Published online 2020 May 31. doi: 10.1111/pedi.13038
PMCID:
PMC7383999
ArticlePubReaderPDF–1.0MCitation
**********************
In vitro biocompatibility of biohybrid polymers membrane evaluated in human gingival fibroblasts
Bin Guo, Chuhua Tang, Mingguo Wang, Zhongqi Zhao, Hassan A. Shokoohi‐Tabrizi, Bin Shi, Oleh Andrukhov, Xiaohui Rausch‐Fan
J Biomed Mater Res B Appl Biomater. 2020 Aug; 108(6): 2590–2598. Published online 2020 Feb 25. doi: 10.1002/jbm.b.34591
PMCID:
PMC7383566
ArticlePubReaderPDF–2.5MCitation
**********************
Standardized intraoperative application of an absorbable polysaccharide hemostatic powder to reduce the incidence of lymphocele after kidney transplantation – a prospective trial
Christopher K. Burghuber, Daniela Kandioler, Stephanie Strobl, Martina Mittlböck, Georg A. Böhmig, Thomas Soliman, Gabriela A. Berlakovich
Transpl Int. 2019 Jan; 32(1): 59–65. Published online 2018 Sep 3. doi: 10.1111/tri.13329
PMCID:
PMC7380033
ArticlePubReaderPDF–243KCitation
**********************
Predicting future citation counts of scientific manuscripts submitted for publication: a cohort study in transplantology
Michael Kossmeier, Georg Heinze
Transpl Int. 2019 Jan; 32(1): 6–15. Published online 2018 Jul 22. doi: 10.1111/tri.13292
PMCID:
PMC7379680
ArticlePubReaderPDF–294KCitation
**********************
Molecular Guided Treatments in Gynecologic Oncology: Analysis of a Real‐World Precision Cancer Medicine Platform
Hossein Taghizadeh, Robert M. Mader, Leonhard Müllauer, Stefanie Aust, Stephan Polterauer, Heinz Kölbl, Veronika Seebacher, Christoph Grimm, Alexander Reinthaller, Gerald W. Prager
Oncologist. 2020 Jul; 25(7): e1060–e1069. Published online 2020 May 8. doi: 10.1634/theoncologist.2019-0904
PMCID:
PMC7356753
ArticlePubReaderPDF–519KCitation
**********************
Immunology of COVID‐19: mechanisms, clinical outcome, diagnostics and perspectives – a report of the European Academy of Allergy and Clinical Immunology (EAACI)
M Sokolowska, Z Lukasik, I Agache, CA Akdis, D Akdis, M Akdis, W Barcik, H Brough, T Eiwegger, A Eliaszewicz, S Eyerich, W Feleszko, C Gomez Casado, K Hoffmann‐Sommergruber, J Janda, R Jiménez‐Saiz, M Jutel, E Knol, I Kortekaas Krohn, A Kothari, J Makowska, M Moniuszko, H Morita, L O'Mahony, K Nadeau, C Ozdemir, I Pali‐Schöll, O Palomares, F Papaleo, M Prunicki, CB Schmidt‐Weber, A Sediva, J Schwarze, MH Shamji, G Tramper‐Stranders, W van, de Veen, E Untersmayr
Allergy. 2020 Jun 25 : 10.1111/all.14462. doi: 10.1111/all.14462 [Epub ahead of print]
PMCID:
PMC7361752
**********************
Attitudes of dental students towards patients with special healthcare needs: Can they be improved?
Anita Holzinger, Stefan Lettner, Alexander Franz
Eur J Dent Educ. 2020 May; 24(2): 243–251. Published online 2020 Jan 3. doi: 10.1111/eje.12490
PMCID:
PMC7328724
ArticlePubReaderPDF–293KCitation
**********************
Condensation of delta‐1‐piperideine‐6‐carboxylate with ortho‐aminobenzaldehyde allows its simple, fast, and inexpensive quantification in the urine of patients with antiquitin deficiency
Thomas Boehm, Holger Hubmann, Karin Petroczi, Déborah Mathis, Kristaps Klavins, Guenter Fauler, Barbara Plecko, Eduard Struys, Bernd Jilma
J Inherit Metab Dis. 2020 Jul; 43(4): 891–900. Published online 2020 Jan 29. doi: 10.1002/jimd.12214
PMCID:
PMC7384183
ArticlePubReaderPDF–2.9MCitation
**********************
Potent and rapid reversal of the von Willebrand factor inhibitor aptamer BT200
Shuhao Zhu, James C. Gilbert, Zicai Liang, Daiwu Kang, Ming Li, Paul M. Tarantino, Bernd Jilma
J Thromb Haemost. 2020 Jul; 18(7): 1695–1704. Published online 2020 Jun 10. doi: 10.1111/jth.14822
PMCID:
PMC7384040
ArticlePubReaderPDF–816KCitation
**********************
Non‐invasive detection of portal hypertension by enhanced liver fibrosis score in patients with different aetiologies of advanced chronic liver disease
Benedikt Simbrunner, Rodrig Marculescu, Bernhard Scheiner, Philipp Schwabl, Theresa Bucsics, Alexander Stadlmann, David J. M. Bauer, Rafael Paternostro, Ernst Eigenbauer, Matthias Pinter, Albert Friedrich Stättermayer, Michael Trauner, Mattias Mandorfer, Thomas Reiberger
Liver Int. 2020 Jul; 40(7): 1713–1724. Published online 2020 May 18. doi: 10.1111/liv.14498
PMCID:
PMC7383870
ArticlePubReaderPDF–795KCitation
**********************
Allergen alters IL‐2/αIL‐2‐based Treg expansion but not tolerance induction in an allergen‐specific mouse model
Cordula Köhler, Ursula Smole, Bernhard Kratzer, Doris Trapin, Klaus G. Schmetterer, Winfried F. Pickl
Allergy. 2020 Jul; 75(7): 1618–1629. Published online 2020 Feb 15. doi: 10.1111/all.14203
PMCID:
PMC7383865
ArticlePubReaderPDF–1.1MCitation
**********************
Predicting donor, recipient and graft survival in living donor kidney transplantation to inform pretransplant counselling: the donor and recipient linked iPREDICTLIVING tool – a retrospective study
Maria C. Haller, Christine Wallisch, Geir Mjøen, Hallvard Holdaas, Daniela Dunkler, Georg Heinze, Rainer Oberbauer
Transpl Int. 2020 Jul; 33(7): 729–739. Published online 2020 Feb 24. doi: 10.1111/tri.13580
PMCID:
PMC7383676
ArticlePubReaderPDF–508KCitation
**********************
Dysbalanced sex hormone status is an independent predictor of decompensation and mortality in patients with liver cirrhosis
Rafael Paternostro, Birgit B. Heinisch, Thomas Reiberger, Mattias Mandorfer, Constanze Bardach, Katharina Lampichler, Berit Seeland, Remy Schwarzer, Michael Trauner, Markus Peck‐Radosavljevic, Arnulf Ferlitsch
Hepatol Res. 2019 Feb; 49(2): 201–211. Published online 2018 Oct 31. doi: 10.1111/hepr.13253
PMCID:
PMC7379971
ArticlePubReaderPDF–540KCitation
**********************
Association of insulin‐manipulation and psychiatric disorders: A systematic epidemiological evaluation of adolescents with type 1 diabetes in Austria
Gabriele Berger, Thomas Waldhoer, Irene Barrientos, Daniela Kunkel, Birgit M. Rami‐Merhar, Edith Schober, Andreas Karwautz, Gudrun Wagner
Pediatr Diabetes. 2019 Feb; 20(1): 127–136. Published online 2018 Oct 26. doi: 10.1111/pedi.12784
PMCID:
PMC7379731
ArticlePubReaderPDF–1.0MCitation
**********************
Effects and safety of atmospheric low‐temperature plasma on bacterial reduction in chronic wounds and wound size reduction: A systematic review and meta‐analysis
Ojan Assadian, Karen J. Ousey, George Daeschlein, Axel Kramer, Christina Parker, Judith Tanner, David J. Leaper
Int Wound J. 2019 Feb; 16(1): 103–111. Published online 2018 Oct 12. doi: 10.1111/iwj.12999
PMCID:
PMC7379569
ArticlePubReaderPDF–1.4MCitation
**********************
Glycated hemoglobin concentrations of red blood cells minimally increase during storage under standard blood banking conditions
Julian Prosenz, Thomas Öhlinger, Ernst W. Müllner, Rodrig Marculescu, Christopher Gerner, Ulrich Salzer, Florian W. Kiefer, David M. Baron
Transfusion. 2019 Feb; 59(2): 454–457. Published online 2018 Oct 1. doi: 10.1111/trf.14956
PMCID:
PMC7379282
ArticlePubReaderPDF–162KCitation
**********************
Dose‐dependent naloxone‐induced morphine withdrawal symptoms in opioid‐dependent males—a double‐blinded, randomized study
Stefan Weisshaar, Laura Brandt, Brigitte Litschauer, Safoura Sheik‐Rezaei, Laura Moser, Günther Nirnberger, Elisabeth Kühberger, Ulrike Bauer, Christa Firbas, Ghazaleh Gouya, Michael Wolzt, Gabriele Fischer
Br J Clin Pharmacol. 2020 Aug; 86(8): 1610–1619. Published online 2020 Mar 20. doi: 10.1111/bcp.14271
PMCID:
PMC7373709
ArticlePubReaderPDF–1.1MCitation
**********************
Recombinant factor VIII Fc fusion protein for the treatment of severe haemophilia A: Final results from the ASPIRE extension study
Beatrice Nolan, Johnny Mahlangu, Ingrid Pabinger, Guy Young, Barbara A. Konkle, Chris Barnes, Keiji Nogami, Elena Santagostino, K. John Pasi, Liane Khoo, Bent Winding, Huixing Yuan, Joachim Fruebis, Dan Rudin, Johannes Oldenburg
Haemophilia. 2020 May; 26(3): 494–502. Published online 2020 Mar 30. doi: 10.1111/hae.13953
PMCID:
PMC7384031
ArticlePubReaderPDF–500KCitation
**********************
Design of skin islands for a myocutaneous serratus anterior free flap—An anatomical study and clinical implication for pharyngeal reconstruction after laryngopharyngectomy
Stefan J. Janik, István Paraszti, Lena Hirtler, Rudolf Seemann, Hannes Traxler, Wolfgang Weninger, Boban M. Erovic
Clin Otolaryngol. 2019 May; 44(3): 227–234. Published online 2018 Dec 11. doi: 10.1111/coa.13257
PMCID:
PMC7380000
ArticlePubReaderPDF–432KCitation
**********************
Diagnostic accuracy of content‐based dermatoscopic image retrieval with deep classification features
Tschandl, G. Argenziano, M. Razmara, J. Yap
Br J Dermatol. 2019 Jul; 181(1): 155–165. Published online 2018 Oct 17. doi: 10.1111/bjd.17189
PMCID:
PMC7379719
ArticlePubReaderPDF–5.8MCitation
**********************
Gender differences in molecular‐guided therapy recommendations for metastatic malignant mesothelioma
Hossein Taghizadeh, Sabine Zöchbauer‐Müller, Robert M. Mader, Leonhard Müllauer, Thomas Klikovits, Thomas Bachleitner‐Hofmann, Mir A. Hoda, Gerald W. Prager
Thorac Cancer. 2020 Jul; 11(7): 1979–1988. Published online 2020 May 21. doi: 10.1111/1759-7714.13491
PMCID:
PMC7327667
ArticlePubReaderPDF–142KCitation
**********************
The Effect of Orally Administered Dronabinol on Optic Nerve Head Blood Flow in Healthy Subjects—A Randomized Clinical Trial
Nikolaus Hommer, Martin Kallab, Stephan Szegedi, Stefan Puchner, Kristina Stjepanek, Martin Bauer, René M. Werkmeister, Leopold Schmetterer, Marihan Abensperg‐Traun, Gerhard Garhöfer, Doreen Schmidl
Clin Pharmacol Ther. 2020 Jul; 108(1): 155–161. Published online 2020 Feb 23. doi: 10.1002/cpt.1797
PMCID:
PMC7325313
ArticlePubReaderPDF–674KCitation
**********************
Impact of osteopontin on the development of non‐alcoholic liver disease and related hepatocellular carcinoma
Alexander D. Nardo, Nicole G. Grün, Maximilian Zeyda, Monika Dumanic, Georg Oberhuber, Elisa Rivelles, Thomas H. Helbich, Daniel F. Markgraf, Michael Roden, Thierry Claudel, Michael Trauner, Thomas M. Stulnig
Liver Int. 2020 Jul; 40(7): 1620–1633. Published online 2020 May 30. doi: 10.1111/liv.14464
PMCID:
PMC7384114
ArticlePubReaderPDF–2.0MCitation
**********************
A systematic review and meta‐analysis of the impact of lymphovascular invasion in bladder cancer transurethral resection specimens
Andrea Mari, Shoji Kimura, Beat Foerster, Mohammad Abufaraj, David D'Andrea, Melanie Hassler, Andrea Minervini, Morgan Rouprêt, Marko Babjuk, Shahrokh F. Shariat
BJU Int. 2019 Jan; 123(1): 11–21. Published online 2018 Jun 29. doi: 10.1111/bju.14417
PMCID:
PMC7379926
ArticlePubReaderPDF–710KCitation
***************************************