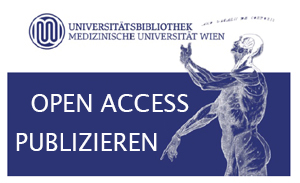 Open Access-Publizieren ohne Zusatzkosten für Autor*innen der MedUni Wien
Die Medizinische Universität Wien hat mit dem Springer-Verlag ein neues Lizenzmodell "Springer Compact" vereinbart. Publiziert kann in über 1.600 Subskriptionszeitschriften von Springer Open Access ohne zusätzliche Autor*innengebühren werden. Mehr Infos–>
Resource utilization for chimeric antigen receptor T cell therapy versus autologous hematopoietic cell transplantation in patients with B cell lymphoma
Alexander Ring, Björn Grob, Erik Aerts, Katharina Ritter, Jörk Volbracht, Bettina Schär, Michael Greiling, Antonia M. S. Müller
Ann Hematol. 2022; 101(8): 1755–1767. Published online 2022 Jun 27. doi: 10.1007/s00277-022-04881-0
PMCID:
PMC9279251
********************
Dermatitis linearis outbreak associated with Paederus balcanicus in Austria
Karin Bakran-Lebl, Kaan Harmankaya, Hans-Peter Fuehrer, Erich Heidenreich, Lilla Marton, Thomas Zechmeister, Franz Allerberger, Matthias Preusser
Wien Klin Wochenschr. 2022; 134(13-14): 511–515. Published online 2022 Jun 20. doi: 10.1007/s00508-022-02047-6
PMCID:
PMC9300571
********************
Complement activation contributes to GAD antibody-associated encephalitis
Omar Chuquisana, Christine Strippel, Anna M. Tröscher, Tobias Baumgartner, Attila Rácz, Christian W. Keller, Christian E. Elger, Nico Melzer, Stjepana Kovac, Heinz Wiendl, Jan Bauer, Jan D. Lünemann
Acta Neuropathol. 2022; 144(2): 381–383. Published online 2022 Jun 13. doi: 10.1007/s00401-022-02448-x
PMCID:
PMC9288364
********************
Functional Specificity of TPS Brain Stimulation Effects in Patients with Alzheimer's Disease: A Follow-up fMRI Analysis
Gregor Dörl, Eva Matt, Roland Beisteiner
Neurol Ther. 2022 Sep; 11(3): 1391–1398. Published online 2022 May 28. doi: 10.1007/s40120-022-00362-8
PMCID:
PMC9338196
********************
Temporal patterns of weekly births and conceptions predicted by meteorology, seasonal variation, and lunar phases
Sandra Gudziunaite, Hanns Moshammer
Wien Klin Wochenschr. 2022; 134(13-14): 538–545. Published online 2022 May 24. doi: 10.1007/s00508-022-02038-7
PMCID:
PMC9300502
********************
Severe Dysphagia is Rare After Magnetic Sphincter Augmentation
Milena Bologheanu, Aleksa Matic, Joy Feka, Reza Asari, Razvan Bologheanu, Franz M. Riegler, Lisa Gensthaler, Bogdan Osmokrovic, Sebastian F. Schoppmann
World J Surg. 2022; 46(9): 2243–2250. Published online 2022 Apr 29. doi: 10.1007/s00268-022-06573-2
PMCID:
PMC9334408
********************
ASO Author Reflections: Is Vascular Cell Adhesion Molecule-1 (VCAM-1) a Promising Biomarker in Urothelial Carcinoma of the Bladder?
Keiichiro Mori, Victor M. Schuettfort, Shin Egawa, Eva Compérat, Shahrokh F. Shariat
Ann Surg Oncol. 2022; 29(8): 5317–5318. Published online 2022 Apr 12. doi: 10.1245/s10434-022-11702-1
PMCID:
PMC9246978
********************
The radiosensitizing effect of β-Thujaplicin, a tropolone derivative inducing S-phase cell cycle arrest, in head and neck squamous cell carcinoma-derived cell lines
Markus Haas, Teresa Lenz, Lorenz Kadletz-Wanke, Gregor Heiduschka, Bernhard J Jank
Invest New Drugs. 2022; 40(4): 700–708. Published online 2022 Apr 12. doi: 10.1007/s10637-022-01229-3
PMCID:
PMC9288374
********************
The Role of the Complement System in Chronic Inflammatory Demyelinating Polyneuropathy: Implications for Complement-Targeted Therapies
Luis A. Querol, Hans-Peter Hartung, Richard A. Lewis, Pieter A. van Doorn, Timothy R. Hammond, Nazem Atassi, Miguel Alonso-Alonso, Marinos C. Dalakas
Neurotherapeutics. 2022 Apr; 19(3): 864–873. Published online 2022 Apr 4. doi: 10.1007/s13311-022-01221-y
PMCID:
PMC9294101
********************
Prognostic Role of Preoperative Vascular Cell Adhesion Molecule-1 Plasma Levels in Urothelial Carcinoma of the Bladder Treated With Radical Cystectomy
Keiichiro Mori, Victor M. Schuettfort, Satoshi Katayama, Ekaterina Laukhtina, Benjamin Pradere, Fahad Quhal, Reza Sari Motlagh, Hadi Mostafaei, Nico C. Grossmann, Pawel Rajwa, Jeremy YC. Teoh, Irene Resch, Harun Fajkovic, Marco Moschini, David D'andrea, Mohammad Abufaraj, Pierre I. Karakiewicz, Yair Lotan, Douglas Scherr, Shin Egawa, Eva Compérat, Shahrokh F. Shariat, European Association of Urology–Young Academic Urologists Urothelial Carcinoma Working Group (EAU-YAU)
Ann Surg Oncol. 2022; 29(8): 5307–5316. Published online 2022 Mar 26. doi: 10.1245/s10434-022-11575-4
PMCID:
PMC9246812
***************************
Comparative effectiveness of moderate hypofractionation with volumetric modulated arc therapy versus conventional 3D-radiotherapy after radical prostatectomy
Matthias Moll, David D'Andrea, Alexandru Zaharie, Bernhard Grubmüller, Christopher Paschen, Sonja Zehetmayer, Shahrokh F. Shariat, Joachim Widder, Gregor Goldner
Strahlenther Onkol. 2022; 198(8): 719–726. Published online 2022 Mar 13. doi: 10.1007/s00066-022-01909-2
PMCID:
PMC9300528
***************************
Creatine kinase-(MB) and hepcidin as candidate biomarkers for early diagnosis of pulmonary tuberculosis: a proof-of-concept study in Lambaréné, Gabon
Paulin N. Essone, Bayode R. Adegbite, Marien J. M. Mbadinga, Armel V. Mbouna, Fabrice Lotola-Mougeni, Ayodele Alabi, Jean R. Edoa, Bertrand Lell, Abraham S. Alabi, Ayola A. Adegnika, Michael Ramharter, Joel F. D. Siawaya, Martin P. Grobusch, Peter G. Kremsner, Selidji T. Agnandji
Infection. 2022; 50(4): 897–905. Published online 2022 Feb 8. doi: 10.1007/s15010-022-01760-8
PMCID:
PMC9338130