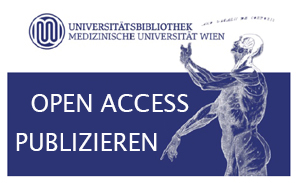 Open Access-Publizieren ohne Zusatzkosten für Autor*innen der MedUni Wien
Die Medizinische Universität Wien hat mit dem Springer-Verlag ein neues Lizenzmodell "Springer Compact" vereinbart. Publiziert kann in über 1.600 Subskriptionszeitschriften von Springer Open Access ohne zusätzliche Autor*innengebühren werden. Mehr Infos–>
Im Van Swieten Blog können Sie kontinuierlich die Open Access Publikationen von Angehörigen der MedUni Wien nachlesen:
Child murder in the Early Bronze Age: proteomic sex identification of a cold case from Schleinbach, Austria
Katharina Rebay-Salisbury, Lukas Janker, Doris Pany-Kucera, Dina Schuster, Michaela Spannagl-Steiner, Lukas Waltenberger, Roderick B. Salisbury, Fabian Kanz
Archaeol Anthropol Sci. 2020; 12(11): 265. Published online 2020 Oct 23. doi: 10.1007/s12520-020-01199-8
PMCID:
PMC7584537
ArticlePubReaderPDF–1.5MCitation
*****************************************
Acute respiratory failure in immunocompromised patients: outcome and clinical features according to neutropenia status
Djamel Mokart, Michael Darmon, Peter Schellongowski, Peter Pickkers, Marcio Soares, Jordi Rello, Philippe R. Bauer, Andry van de Louw, Virginie Lemiale, Fabio Silvio Taccone, Ignacio Martin-Loeches, Jorge Salluh, Katerina Rusinova, Sangeeta Mehta, Massimo Antonelli, Achille Kouatchet, Andreas Barratt-Due, Miia Valkonen, Precious Pearl Landburg, Ramin Brandt Bukan, Frédéric Pène, Victoria Metaxa, Gaston Burghi, Colombe Saillard, Lene B. Nielsen, Emmanuel Canet, Magali Bisbal, Elie Azoulay, for the Efraim investigators and the Nine-I study group
Ann Intensive Care. 2020; 10: 146. Published online 2020 Oct 22. doi: 10.1186/s13613-020-00764-7
PMCID:
PMC7581668
ArticlePubReaderPDF–1.0MCitation
*****************************************
Imaging features and differential diagnoses of non-neoplastic diffuse mediastinal diseases
Flavian Tabotta, Gilbert R. Ferretti, Helmut Prosch, Samia Boussouar, Anne-Laure Brun, Justus E. Roos, Lukas Ebner, Igor Letovanec, Michel Brauner, Catherine Beigelman-Aubry
Insights Imaging. 2020 Dec; 11: 111. Published online 2020 Oct 15. doi: 10.1186/s13244-020-00909-z
PMCID:
PMC7561640
ArticlePubReaderPDF–2.2MCitation
*****************************************
Do Women with Diabetes Need More Intensive Action for Cardiovascular Reduction than Men with Diabetes?
Jürgen Harreiter, Helena Fadl, Alexandra Kautzky-Willer, David Simmons
Curr Diab Rep. 2020; 20(11): 61. Published online 2020 Oct 9. doi: 10.1007/s11892-020-01348-2
PMCID:
PMC7544714
ArticlePubReaderPDF–571KCitation
*****************************************
Structure of the space of taboo-free sequences
Cassius Manuel, Arndt von Haeseler
J Math Biol. 2020; 81(4): 1029–1057. Published online 2020 Sep 17. doi: 10.1007/s00285-020-01535-5
PMCID:
PMC7560954
ArticlePubReaderPDF–727KCitation
*****************************************
Biological properties of bone marrow plasma cells influence their recovery in aspirate specimens: impact on classification of plasma cell disorders and potential bias to evaluation of treatment response
Svitlana Demyanets, Alexandra Kaider, Ingrid Simonitsch-Klupp, Günther Bayer, Almira Subasic, Renate Thalhammer, Harald Esterbauer, Maria T. Krauth, Hermine Agis, Thomas Reiter, Ilse Schwarzinger
Ann Hematol. 2020; 99(11): 2599–2609. Published online 2020 Sep 15. doi: 10.1007/s00277-020-04249-2
PMCID:
PMC7536141
ArticlePubReaderPDF–423KCitation
*****************************************
Apalutamide, enzalutamide, and darolutamide for non-metastatic castration-resistant prostate cancer: a systematic review and network meta-analysis
Keiichiro Mori, Hadi Mostafaei, Benjamin Pradere, Reza Sari Motlagh, Fahad Quhal, Ekaterina Laukhtina, Victor M. Schuettfort, Mohammad Abufaraj, Pierre I. Karakiewicz, Takahiro Kimura, Shin Egawa, Shahrokh F. Shariat
Int J Clin Oncol. 2020; 25(11): 1892–1900. Published online 2020 Sep 14. doi: 10.1007/s10147-020-01777-9
PMCID:
PMC7572325
ArticlePubReaderPDF–859KCitation
*****************************************
Aspiration in lethal drug abuse—a consequence of opioid intoxication
Johannes Nicolakis, Günter Gmeiner, Christian Reiter, Monika Heidemarie Seltenhammer
Int J Legal Med. 2020; 134(6): 2121–2132. Published online 2020 Sep 14. doi: 10.1007/s00414-020-02412-y
PMCID:
PMC7578170
ArticlePubReaderPDF–589KCitation
*****************************************
Elevation of phosphate levels impairs skeletal myoblast differentiation
Adalbert Raimann, Alexander Dangl, Alireza Javanmardi, Susanne Greber-Platzer, Monika Egerbacher, Peter Pietschmann, Gabriele Haeusler
Cell Tissue Res. 2020; 382(2): 427–432. Published online 2020 Jul 28. doi: 10.1007/s00441-020-03254-1
PMCID:
PMC7584532
ArticlePubReaderPDF–559KCitation
*****************************************
Prognostic value of testosterone for the castration-resistant prostate cancer patients: a systematic review and meta-analysis
Noriyoshi Miura, Keiichiro Mori, Hadi Mostafaei, Fahad Quhal, Reza Sari Motlagh, Mohammad Abufaraj, Benjamin Pradere, Abdulmajeed Aydh, Ekaterina Laukhtina, David D'Andrea, Takashi Saika, Shahrokh F. Shariat
Int J Clin Oncol. 2020; 25(11): 1881–1891. Published online 2020 Jul 17. doi: 10.1007/s10147-020-01747-1
PMCID:
PMC7572350
ArticlePubReaderPDF–2.2MCitation
*****************************************
Clinical-Pathological Conference Series from the Medical University of Graz: Case No 171: A 37-year-old engineer with bolus hold-up (esophageal food impaction)
Elisabeth Fabian, Hans Peter Gröchenig, Philipp K. Bauer, Andreas J. Eherer, Markus Gugatschka, Lukas Binder, Cord Langner, Peter Fickert, Guenter J. Krejs
Wien Klin Wochenschr. 2020; 132(17): 551–559. Published online 2020 Jun 29. doi: 10.1007/s00508-020-01694-x
PMCID:
PMC7518999
ArticlePubReaderPDF–1.2MCitation
*****************************************
The Kaiser score reliably excludes malignancy in benign contrast-enhancing lesions classified as BI-RADS 4 on breast MRI high-risk screening exams
Ruxandra Iulia Milos, Francesca Pipan, Anastasia Kalovidouri, Paola Clauser, Panagiotis Kapetas, Maria Bernathova, Thomas H. Helbich, Pascal A. T. Baltzer
Eur Radiol. 2020; 30(11): 6052–6061. Published online 2020 Jun 6. doi: 10.1007/s00330-020-06945-z
PMCID:
PMC7553895
ArticlePubReaderPDF–805KCitation
*****************************************
The impact of total body water on breath alcohol calculations
Gregor S. Reiter, Markus Boeckle, Christian Reiter, Monika H. Seltenhammer
Wien Klin Wochenschr. 2020; 132(17): 535–541. Published online 2020 May 25. doi: 10.1007/s00508-020-01663-4
PMCID:
PMC7518982
ArticlePubReaderPDF–331KCitation
*****************************************
Factors influencing agreement of breast cancer luminal molecular subtype by Ki67 labeling index between core needle biopsy and surgical resection specimens
Kristina A. Tendl-Schulz, Fabian Rössler, Philipp Wimmer, Ulrike M. Heber, Martina Mittlböck, Nicolas Kozakowski, Katja Pinker, Rupert Bartsch, Peter Dubsky, Florian Fitzal, Martin Filipits, Fanny Carolina Eckel, Eva-Maria Langthaler, Günther Steger, Michael Gnant, Christian F. Singer, Thomas H. Helbich, Zsuzsanna Bago-Horvath
Virchows Arch. 2020; 477(4): 545–555. Published online 2020 May 7. doi: 10.1007/s00428-020-02818-4
PMCID:
PMC7508960
ArticlePubReaderPDF–1.7MCitation
*****************************************
Management and outcome of traumatic subdural hematoma in 47 infants and children from a single center
Harald Binder, Thomas M. Tiefenboeck, Marek Majdan, Micha Komjati, Rupert Schuster, Stefan Hajdu, Johannes Leitgeb
Wien Klin Wochenschr. 2020; 132(17): 499–505. Published online 2020 Apr 24. doi: 10.1007/s00508-020-01648-3
PMCID:
PMC7518988
ArticlePubReaderPDF–323KCitation
*****************************************
Long-term vertigo control after cochlear implantation in patients with end-stage Menière's disease: A retrospective questionnaire-based cross-sectional study
Annabella Kurz, Alice Auinger, Christoph Arnoldner
Wien Klin Wochenschr. 2020; 132(17): 521–525. Published online 2020 Jan 29. doi: 10.1007/s00508-019-01605-9
PMCID:
PMC7518986
ArticlePubReaderPDF–248KCitation
***************************************